Skip to Content
Psychedelic Experiential Training
Mission Statement
Our mission is to provide clinical training, supervision, and professional development to emerging and licensed clinicians, both in our agency and in the community. In turn, this provides more opportunity for all clinicians to learn, grow, and further the agency's goal to provide quality clinical services to all clients.

MPB Group is proud to announce that it is an approved practicum service provider for Synthesis Institute.
The Synthesis Institute is a global leader of the modern psychedelic movement, advancing scientific research, training and education to create access to safe, legal psychedelic experiences for integrative healing and expansion.
Psychedelic (psilocybin) Experiential Training
MPB Group (in conjunction with Healing Escapes Foundation) is offering a unique opportunity to obtain first-hand experiential training as Psychedelic Guides.
We offer two levels of training, followed by an all expenses paid interview/work experience at a Healing Escapes Foundation retreat (by invite only) that is designed to assess your fit as a potential member of our core team.
Level I: Topics include: history, cultural appropriation issues, sacredness of medicine, neuroscience, microdosing, research and findings, Inner healing intelligence, set/setting, protocols, dosing, the journey experience, role of guide, documentation, harm reduction, integration. Includes a micro-dose session, opportunities to serve as journeyer and guide, all meals, lodging, massages, and group integration.
Level II: Topics include: grounding our practice (attunement, awareness), harm reduction, stages of integration, different modes of preparation and ingestion/effect on system of psilocybin (raw, tea, chocolate, capsules), visit to psilocybin lab, ethics, vignettes, case consultation, team feedback. Includes a micro-dose session, opportunities to serve as journeyer and guide, all meals, lodging, massages, and group integration.
We also offer customized practicum program training opportunities
During these 3 night/4 day trainings, you receive instruction from our licensed mental health clinicians, who have 60+ years of cumulative experience in both mental health treatment and plant-based medicine, culminating in Certificates of Completion and, following Level II training, Certification as Psychedelic (psilocybin) Facilitators.
Click here to complete the Experiential (Psilocybin) Training Interest Form
Contact us via email at doctor_brewer@healingescapesfoundation.org or mika@mpbgroupinc.com in order to secure your dates of availability to get first hand experience and exposure to this healing medicine.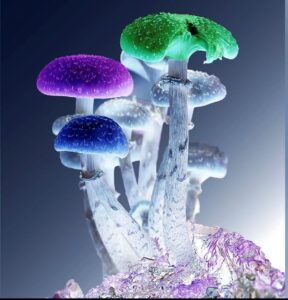 Therapist, first take the plunge yourself! Why therapists (and other caregivers) working with psychedelics should have personal experience with these substances / Door's Perceptions.
Please click the link to this article that discusses the importance of clinician's having a first-hand experience with psilocybin to be a competent Psychedelic Guide.
Blog | Door of Perception | Psychedelic Coaching