Skip to Content
List of Clinicians
Mika Uematsu, LCSW-C, Program Director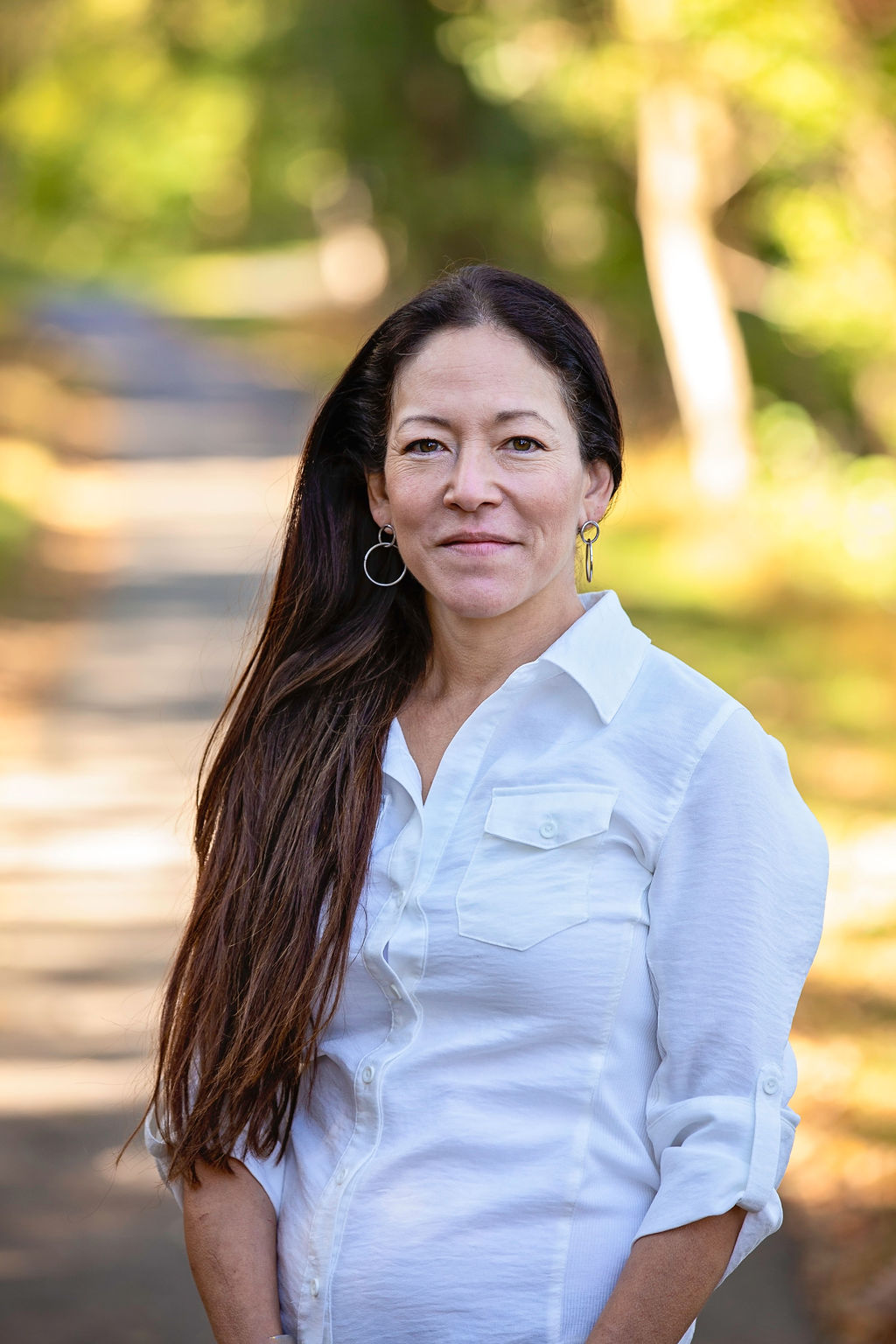 Mika Uematsu serves as the Program Director of the Trauma Recovery Center which is dedicated to providing clinical services to those individuals who have been impacted by traumatic life experiences. She received her Masters in Social Work from UMAB in 1997 and has been a practicing psychotherapist for the last 25 years. She is a Certified Clinical Trauma Professional who is fluent in American Sign Language. During her career, Ms. Uematsu has provided mental health services for those individuals who have been diagnosed with chronic mental illness and survivors of complex trauma. In 2001, Ms. Uematsu provided crisis intervention and ongoing clinical support to the students, parents and staff at Winterstown Elementary School after 11 kindergarteners and several school personnel were attacked by an intruder wielding a machete. Two years later, she would assist those same students, who were now enrolled at Red Lion Middle School, after they were again re-traumatized when a fellow classmate shot the Principal and then himself in the student-packed cafeteria. Mika Uematsu works with an incredibly talented team of trauma professionals who are dedicated to assisting individuals heal and recover by utilizing evidence-based practices along with a focus on self-resiliency, respect, empowerment, and hope.
Nelly Sandeep, LCSW-C, Clinical Team Lead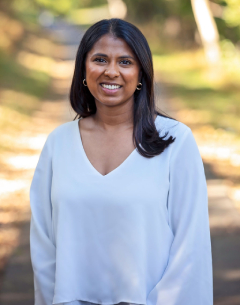 Nelly Sandeep, LCSW-C, received her Masters of Social Work from Columbia University School of Social Work and is currently the Clinical Team Lead for the Trauma Recovery Clinic. Nelly specializes in work with children, adolescents, and adults who have experienced trauma. Nelly is passionate about supporting all individuals but is specifically interested in providing therapeutic services to underserved communities. Nelly believes that every person has the right to a space where they can process their lived experiences without judgment and that individuals deserve to heal from traumatic experiences. Nelly is trained in Trauma-Focused Cognitive Behavioral Therapy, Dialectical Behavioral Therapy, and Cognitive Processing Therapy. She believes that her background in these evidence-based modalities have helped her in supporting and serving her clients.
Simone Collins, LCSW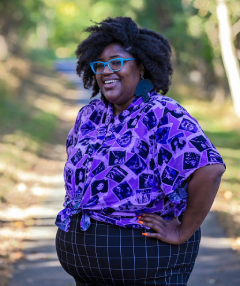 Simone Collins, LCSW is a licensed social worker who is a member of both the Group Therapy and Trauma Department. She received her MSW from University of Maryland School of Social Work in 2015. She has had previous trainings in Mediation and Non-violent Crisis Intervention. Previously working as an in-home and school-based clinician, she has had experiences working with multiple populations to address symptoms of trauma, depression, anxiety, ADHD, anger management and bipolar disorder.
Simone joined MPB Group in October of 2020, hoping to expand her knowledge of therapy practice to better serve clients and to assist interns in their therapeutic development, as a future supervisor. She is trained in Cognitive Behavioral Therapy, Motivational Interviewing, and Solution-focused therapy. Simone has an interest in furthering her knowledge in trauma-based practice, to better serve clients dealing with symptoms of grief and trauma. She has a belief that clients are full of possibilities and can benefit from being motivated to acknowledge their own potential, through therapeutic support and advocacy.
Helen Ding, LMSW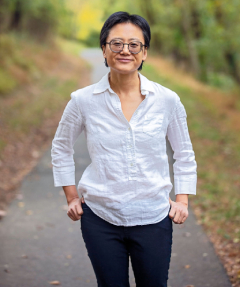 Helen Ding, LMSW, received her Masters of Social Work from University of Maryland Baltimore in 2020. Helen works with adults with trauma and is fluent in Mandarin Chinese. Her background as an immigrant and her personal experience with neurodiversity inform her cultural humility. Helen's theoretical model is Acceptance Commitment Therapy (ACT), which believes that it's more helpful to understand difficult emotions and beliefs rather than feeling ashamed and suppressing them. Her methods include exploring the reasons behind behaviors, sharing mindfulness skills to sit with difficult emotions, identifying goals and values, and encouraging commitment to behave in ways that support clients' values.
Kiti Jackson, LGPC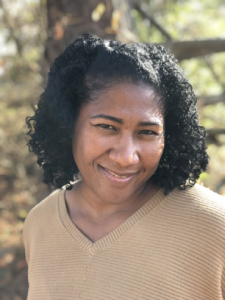 Kiti Jackson is a Licensed Graduate Professional Counselor (LGPC) in the state of Maryland. Kiti's approach to therapy is based on the foundations of Cognitive behavioral Therapy, Dialectical Behavior Therapy, Solution focused, Motivational Interviewing and Person-Center Therapy. She has worked with adolescents and their family and adults. She has used trauma-informed care for addiction and other mental health issues. Her work is focused on serving clients with various concerns to include ADHD/ADD, Bipolar disorder, Trauma, Schizophrenia, Anxiety, PTSD, and Depression. Kiti is passionate in helping clients focus on mental, emotional and behavioral growth. Kiti graduated with a Bachelor of Arts in Christian Psychology. She earned her Master of Arts in Professional Counseling from Liberty University in 2019.
Chanell Jones, LMSW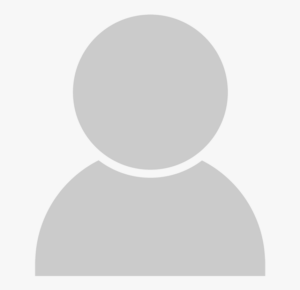 Chanell Jones, LMSW, earned her Masters of Social Work degree with a specialization in children, youth, and families. As a Title IV-E recipient, Chanell interned as an Adult Services and Child Welfare Data Specialist in the Research and Evaluation department at the Social Services Administration, where she used her knowledge from direct practice to gain skills crucial to Macro Social Work decision making. Chanell has over 15 years of career experience in Human Services, with her target population being children and youth. Chanell spent 8 years of her career working at Baltimore City Department of Social Services, Child Protective Services where she was able to identify with the community and recognize gaps in the service system regarding the overrepresentation of black children in child welfare and the lack of cultural competency among service provisions. Chanell is currently a Pediatric Clinical Social Worker and Mental Health Therapist who focuses on providing trauma informed therapeutic services to children and families.
Michaela Kim, LGPC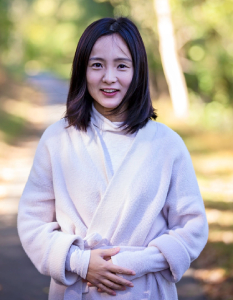 Mikaela Kim, LGPC, has a Master of Science in Clinical Psychology and experience serving clients of various ages and cultural backgrounds in an outpatient clinic setting. In treating clients with trauma, Mikaela addresses coping and relationship patterns as well as underlying psychological and emotional needs. Mikaela integrates empirically derived approaches and provides services that are tailored to clients' life circumstances, preferences, and values.
Yvette Kinchelow-Smith, LGPC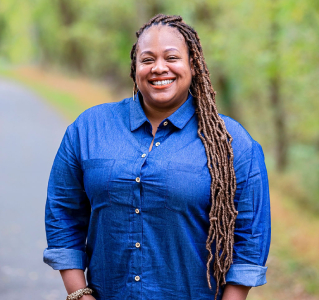 Yvette Kinchelow-Smith, LGPC, LPA, got her masters degree in Mental Health Counseling with a concentration in Adlerian Psychology. Her counseling approach is eclectic and client centered. She has been utilizing skills from treatment modalities such as Cognitive Behavioral Therapy, Person-Centered Therapy, Motivational Interviewing and Stages of Change as therapeutic interventions that will help clients with the issues they struggle with. Yvette has experience working with adults, teenagers, children and families who have experienced trauma and abuse, depression, anxiety, self-esteem issues, grief/loss, other varied mental health diagnoses, and socioeconomic concerns. Yvette works from a systemic, collaborative, strength-based approach that is mindful of cultural, ethnic and economic concerns. She believes the hardest thing to do is to ask for help so she supports clients in their decision to inquire about therapy and looks forward to joining them on their journey.
Luisa Mariño, ATR-BC & LCPAT
I am a registered and licensed bilingual (eng/spa) art therapist. In my practice, I focus on continuously nourishing trust within the therapeutic relationship, whether it is with individuals, families, or communities. I particularly enjoy adapting directives and collaborating on identifying goals and strategies that center on people's strengths, hopes, and needs. Before going deeper into the creative process in art therapy, I encourage people to explore their artistic interests through a variety of techniques and materials.
Main Specialties: Addiction and Recovery, Care of People Experiencing Homelessness, Grief and Loss, Migration/Immigration and Refugees, Self-Esteem, Sexual Abuse, Significant Life Transitions, and Trauma.
Approaches: Trauma-Focused Therapy, Person-Centered Therapy, Culturally-Sensitive Therapy, Narrative Therapy, and Sand Therapy.
Jomar McFarlane, LGPC
Jomar McFarlane, LGPC, prides himself on being a growing, compassionate, and knowledgeable individual who embraces the needs of the people he serves to want to feel whole again. Jomar has learned, through his interactions with various individuals from different walks of life, the destructive nature of trauma that is passed down from generation to generation. His hope is that by exploring these traumas an individual can learn to break the cycle and build, maintain, and pursue healthier relationships. Over the years, Jomar has learned that the goal of therapy is simply finding new ways to disrupt the transfer of our pain and trauma to the ones we love the most, and along the way pursuing the complex rebuilding of one's emotional, psychological, and spiritual wellness.
Melissa Nugent, LGPC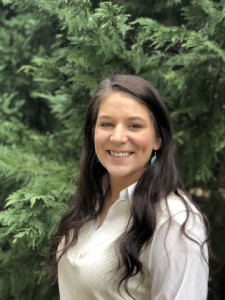 Melissa Nugent, LGPC, is a licensed graduate professional counselor, specializing in trauma recovery with experience in treating anxiety disorders, depression, PTSD, mood disorders and ADD/ADHD. Melissa has clinical experience working with children, adolescents, and adults from diverse backgrounds, working to create meaningful therapeutic bonds to promote a safe and effective healing environment. She believes that building a strong therapeutic bond is the foundation of a successful counselor-client relationship and takes pride in meeting the client where they are at. Melissa received her Bachelor of Science in Business Administration with a minor in Psychology from the University of Maryland, College Park. She then went on to receive her Master of Arts in Clinical Mental Health Counseling from Liberty University in Lynchburg, Virginia. Melissa practices from a holistic and integrative perspective, ensuring to fully meet the needs of each individual client by creating a non-judgmental, accepting, and individualized safe space. Melissa looks to provide a warm, open-minded, supportive, and client-centered counseling approach that will meet the needs of each client and provide them with an effective and trusting place to embark on their healing journey.
Trish Perry, LGMFT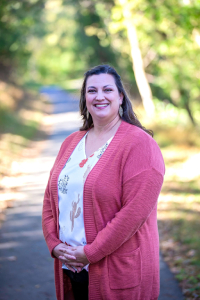 Trish Perry, LGMFT, earned her MA degree at Northcentral University with a specialization in Military Families. As a veteran and military spouse, Trish felt called to specialize in military families, particularly families experiencing PTSD and its effects on the family system. Trish uses Experiential Therapy as her model to create memorable moments in session for families and couples to see family patterns that are getting in the way of synchronicity. She then guides couples and families to take the steps towards positive change. She also sees individual clients and pays close attention to the systems that are part of their daily lives. Trish is passionate about individuals, families, and couples systems and enjoys helping clients become more equipped to face the challenges they encounter.
Neena Prabhu, LMSW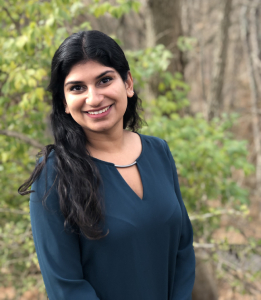 Neena Prabhu is a licensed Therapist who completed her Masters in Clinical Professional Counseling at Loyola University. She joined MPB Group as a therapist for the Trauma Recovery Center (TRC) and the Child and Adolescent Program (CAP). Neena specializes in work with children, adolescents, and also works with adults who have experienced trauma. By using therapy techniques tailored to each individual client, Neena seeks to create a secure space for her clients to explore their thoughts, feelings, beliefs, and behaviors. Along with TF-CBT and ACT, Neena utilizes mindfulness strategies and encourages her clients to pursue a holistic approach to their health. Neena believes that healing and growth occur within a safe and trusting therapeutic relationship and is committed to helping underserved and marginalized populations gain access to mental health care.
Tanya Vaughn, LGPC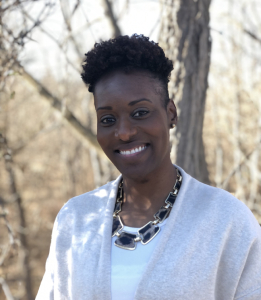 Tanya Vaughn, LGPC will be rejoining the TRC team after she passes her Boards. We look forward to her return.